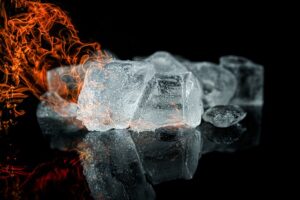 Virginia's Safety and Health Codes Board on Friday voted down a proposed workplace heat protection standard, strongly opposed by the state's business community but ardently sought by organized labor and farmworker advocates.
The Department of Labor and Industry (DOLI) was seeking to push the proposed rules out for a final round of public comments.  Abiding by the standard schedule for regulatory adoption would have meant final approval rested with incoming Governor-elect Glenn Youngkin.  Perhaps the December 3 vote was an early sign attitudes toward the regulatory state are expected to change.
As is always the case with these proposals, a massive amount of staff work had been put into preparing the draft standard, including several industry and labor stakeholder groups meeting throughout 2021.  According to public comments made before Friday's votes, those stakeholder groups had divided along similar lines.
The briefing document for Friday's meeting exceeds 350 pages, with the actual proposed standard covering pages 177 to 199.  The first round of public comments is also reproduced in the document or can be found here.  The early, written comments were heavily favorable to the rules, but the oral testimony Friday was dominated by opponents.
No one disputed the dangers of heat stroke, heat exhaustion and the related risks of working in a hot environment, whether inside or outside.  But serious issues are rare.  According to the DOLI data, Virginia deaths from work-related heat exposure happen less often than once per year, and industry speakers noted that deaths and injuries have been on the decline as working conditions improve.
In October, the federal Occupational Safety and Health Administration (OSHA) began its own effort to develop a national workplace standard around heat exposure.  Opponents of the Virginia effort suggested Virginia defer to that, to prevent any confusion, but worker advocates complained it will take years to create such a rule at the federal level, if it succeeds at all.
The proposed Virginia work standard would have been activated whenever the workplace heat index (not just the air temperature) reached 85 degrees Fahrenheit.  With modest or high humidity, that could happen well below 85 degrees of air temperature, and for outside workplaces would be common many months in Virginia.  The first iteration of the rule kicked in at 80 degrees in heat index.
When workplaces – inside or out — are at that ambient heat level, and employees spend 15 minutes or more per hour in the warmth, employers would be required to provide shaded cool-down locations which employees could seek out "when they feel the need to do so to protect themselves from overheating."  Once employees went there, the employer had a duty to check on their condition.
After the public hearing but before the vote Friday, a Department of Environmental Quality representative in the room asked about their folks out on boats doing their jobs for long periods.  "Are you expecting staff to have shade on the vessel? Or return to shore?" she asked.  The meeting was being monitored on a phone line (the visual link was an issue) so her name escaped this listener.
It was probably the sheer impracticality of the proposal that sank it, as various employer groups complained it seemed aimed at protecting farm workers in the sun but had little application to waitresses working out on a patio, repair workers in a welding shop or a truck driver unloading his vehicle.   Yet it was to be basically universal with no industry-specific adjustments.
Dale Bennett of the Virginia Trucking Association told the board that during this pandemic period, some drivers have been told they couldn't enter the facility where they were making a delivery.  That would be the most logical method for a cooling or water break for them.
At the 85 degree level, employers would be required to provide each worker a full quart of water per hour, at specified water temperatures.  Specific periods of time were mandated for new employees, or those returning from a week off, to be "closely observed by a supervisor or designee" while they become acclimated to the warmth.  How closely? Observed for what signs?
At 95 degrees of heat index, mandatory rest periods in a cool down area of ten minutes every two hours would supplement the ability of the employee to head there on their own initiative.  On those warmest days, a buddy system would be implemented, and additional communication steps required to facilitate everybody being able to contact emergency services.
The paperwork and training requirements in the rules were extensive.  And it ended with prohibitions against any employer from discharging or discriminating against an employee exercising their rights under the rules or "who raises a reasonable concern about heat illness hazards to the employer, the employer's agent, other employees, a government agency, or to the public such as through print, online, social, or any other media."
Prior to DOLI taking on this task, legislation had been introduced in both the 2020 and 2021 General Assembly sessions.  All the bills quickly died before any committee vote on their merits, even as other regulatory matters popular with organized labor were advancing.  As has been typical with many new rules, the heat standard bill also created a private right of action for any employee to sue the employer for alleged failures to meet this standard.
A regulation also adds legal liability risk along with compliance risk for employers. But as several business speakers pointed out, they are already highly motivated to prevent workplace injuries or deaths, prodded by their workers' compensation providers or other regulatory bodies.  The "general duty" clause requiring safe workplaces applies to preventing heat issues.
Unraveling the regulatory structure added since Democrats took full control of Virginia government has been a promise from Governor-elect Youngkin.  The six-to-five vote Friday (with three board members absent) removed one of the likely targets in advance.